Much like gold, Ethereum and others are being used as a hedge against economic uncertainty. However, unlike gold, Ether can also be transacted globally and near-instantaneously through the internet with minimal fees and unlimited amounts. The supply of Ethereum is also transparent and predictable through its open source code which is publicly auditable. In the case of gold, supply shocks are not uncommon.
Why invest in Ethereum?
There are several reasons why a user might choose to buy or invest in Ethereum, here a handful of examples.
Buying Ethereum as an investment
Accessing token sales and other blockchain investments
Hedging against the incumbent fiat system
Diversifying a traditional portfolio
Buying Ethereum for use
Interacting with blockchain-based IoT devices
Using smart contracts and the EVM
Paying wages internationally
What are investment strategies?
Investment strategies vary, and suitability is subject to your own personal risk tolerance. This guide is for information purposes only, and if in any doubt consult a financial adviser.
Buy and hold
One of the most common investment strategies for Ethereum is "buy and hold". If Ethereum is to replace even a fraction of fiat currency, its value will be far greater than it is today. The same can be said if Ethereum becomes the currency of choice for the "machine payable web" which will enable billions of devices to transact value efficiently with each other.
Given the volatility of Ethereum, those looking to buy may want to consider "dollar cost averaging"; spending the total investment amount in chunks over X period of time to acquire Ether at an averaged price.
Buy and diversify
It is safe to say that predicting the future of Ethereum is much like predicting the weather in 5 years time. It is unlikely that Ethereum will disappear anytime soon, but as Ethereum has shown Bitcoin, it is possible for a little-known cryptoasset to become a dominant force in a short period of time. Purchasing Ethereum to exchange for other cryptoassets like Ripple (XRP) and Ethereum Classic (ETC) is a good way to hedge against the unexpected failure of any given coin. Whilst one coin may fail, many VCs and technologists are in agreement that cryptoassets of some nature will become ubiquitous in the future.
Ethereum trading
Some investors choose to day trade cryptoassets on exchanges like Poloniex and GDAX. This type of trading compounds risk on an already volatile asset and should be treated with caution. Let's not go there.
How to buy Ethereum (credit card, wire transfer, and cash)
The easiest way to buy Ethereum (i.e. Ether) would be through one of the popular Bitcoin exchanges that also supply Ethereum.
Buy Ethereum through Coinbase
The most convenient and cheapest way to buy Ethereum would be Coinbase (if it's available in your country):
Open a Coinbase account
Add your payment method (Credit card or bank account)
Go to "Buy/Sell" and select the amount of Ethereum you desire
Click "Buy Ethereum"
Coinbase will sell you ETH for a fee of 1.49%-3.99% depending on your payment method (credit cards have a higher fee than wire transfers).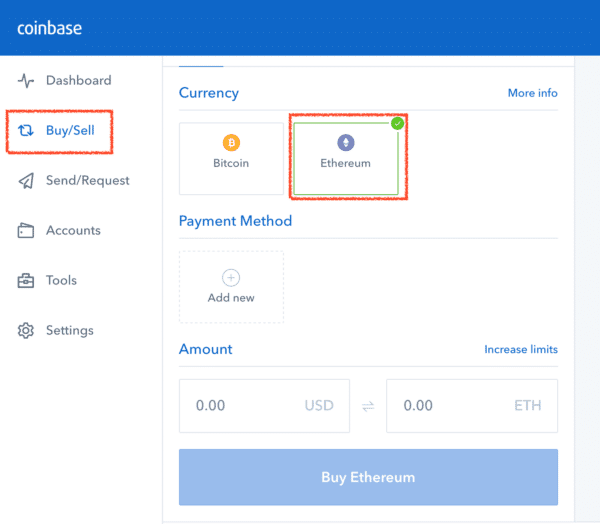 Buy Ethereum through Cex.io
CEX.io is a Bitcoin exchange that also sells ETH via a credit card. The fees for on CEX.io are already calculated into the exchange rate, that's why it will seem higher than other exchanges. For example, the exchange rate for 1 ETH on CEX.io can be around 7% higher than on Coinbase. However, CEX.io works with countries worldwide (unlike Coinbase).
Open a CEX.io account
Add your payment method (Credit card or bank account)
Go to "Buy/Sell" and select Ethereum
Choose the amount of Ethereum you want to buy
Click on "buy Ethereum"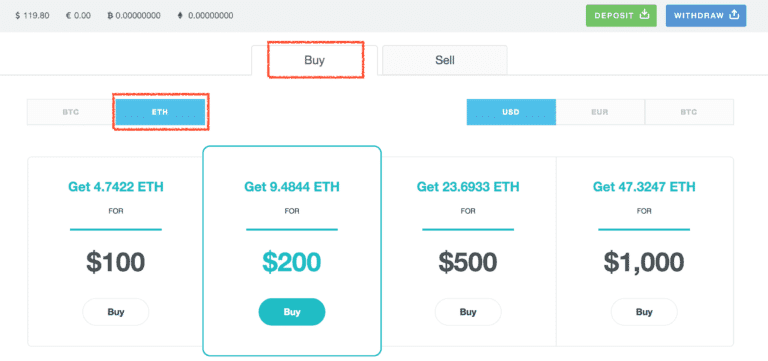 Buy Ethereum through Coinmama
Coinmama is a worldwide seller of Ethereum. The site allows you to buy Ethereum with your credit card and exchange rates are relatively fair considering the alternatives. Coinmama is a very reputable exchange that has been working in the cryptospace since 2014.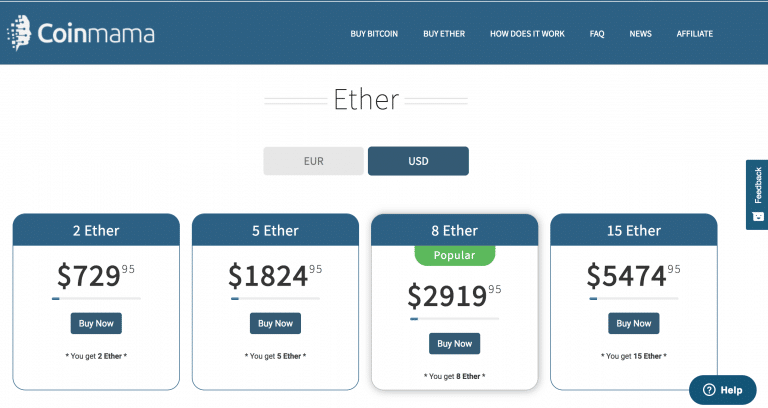 Buy Ethereum through Coinhouse
If you live in the EU (Eurozone) another good option could be buying Ethereum from Coinhouse. The company is a Bitcoin and Ethereum broker that started out supplying service only to people from France and gradually expanded to the rest of Europe. You can pay via a credit card, debit card or Neosurf.
You can also get Ether from several Bitcoin exchanges like Kraken, poloniex, and shapeshift.io.
Buy Ethereum with Cash
At the moment there is no site like LocalBitcoins for Ethereum where you can meet people face to face and buy Ethereum with Cash. However, you can buy Bitcoins with cash and then exchange it to Ethereum through Shapeshift or Poloniex.
Is it too late to buy Ethereum?
If Ethereum was to become ubiquitous as a digital currency – enabling micropayments among machines and borderless/trustless transactions between people – then it is quite obviously not too late to buy Ethereum. The price of Ethereum in 10 years time is likely to either be $0.00 or an uncapped amount that can only be imagined. It is my personal expectation that Ethereum's value will only stabalize (i.e. stop increasing) once the currency has achieved its goal of being a globally decentalized platform with billions of devices and humans interacting with it. Of course, the value of the currency will experience enormous highs and lows as investors join and whales leave, but if the technology is to succeed, then the long run price will be much greater than today.
When is the right time to buy?
Like any market, it's impossible to know the right time to buy.
One strategy you can use is dollar cost averaging. This means you split your buys over a period of time to even out in case the price rises or falls substantially.
You may also want to use charts to track the market, so you can see if the price seems too high or too low.
What are the risks with buying Ethereum?
Ethereum is a new type of asset and even more volatile than Bitcoin.
You should do as much research as possible, compare Ethereum to other crypto assets, and if after that you feel you understand it perhaps it is time to decide if you buy.
Can anyone buy Ethereum?
Anyone is free to use Ethereum. If you can find an exchange in your country, there is no reason you should not be able to buy.
Is it better to mine or buy Ethereum?
It depends on what your goals are. Mining Ethereum has more upfront costs, while buying is the fastest way to acquire some Ethers
What is the best payment method to use when buying?
It depends on what your goals are. For low fees, try a bank transfer. For privacy, you will have to buy bitcoins privately and then buy Ether on an exchange. For speed, try credit card.
What is the difference between Ethereum and Ethereum Classic?
This is somewhat confusing, but a while ago the Ethereum blockchain split into two: Ethereum and Ethereum Classic.
Ethereum Classic is the smaller chain and has a market cap of about $200 million.
How to Buy Ethereum Classic?
The easiest way to buy Ethereum Classic is to first buy Ether or Bitcoin and then trade that for Ethereum Classic on Poloniex.
Can you sell Ethereum?
Of course, you can use most of the exchanges mentioned above to sell Ether. Instead of choosing the "Buy" button, click the "Sell" button to sell your Ethereum to others.