Litecoin, Bitcoin's younger brother has recently taken off to new heights. Since Litecoin reached its all time high on December 2013 of $38 it then plummeted and kept a steady exchange rate of around $3 for the last 3.5 years. However recently Litecoin started booming again, many people say this is due to the fact the currency has adopted the Segwit soft fork implementations.
Today Litecoin is trading over over $40 on most major exchanges. In this post I will cover how you can buy Litecoins using a credit card, your Paypal account or wire transfers. Keep in mind that using the first two methods will probably cost more than using the wire transfer. This is due to the fact that if you buy Litecoin with Paypal or a credit card the seller takes the risk of your requesting a chargeback on your transaction.
Step 1 – Get a Litecoin wallet
Before you buy your Litecoins you should first get a wallet to store them on. Between some of the  most popular wallets today for Litecoin are Coinbase, Exodus and Jaxx. If you're looking for better security for your Litecoins you can use hardware wallets like TREZOR or Ledger to store them as well.
Step 2 – Find a Litecoin exchange
One of the main issues it's currently hard to buy Litecoins is because most exchanges trade it only for Bitcoins (and not for USD or EUR). Therefor one option you have is to buy Bitcoins and then exchange them to Litecoins on exchanges like Polonix, BTC-e or Shapeshift.
However, there are some exchanges that allow you to buy Litecoins directly.
Coinbase – Allows you to buy up to $500 worth of Litecoins using your credit card. Higher limits can be achieved once you verify your identity. Coinbase accepts buyers from 33 countries around the world and the fees on the exchange are relatively low (mainly for ACH transfers inside the US).
Bitpanda – Allows you to buy Litecoin using your credit card, Skrill account, SEPA transfer or SOFORT transfer. Buying on Bitpanda requires verification and buying limits are relatively low (600 euros).
Bitstamp – One of the oldest cryptocurrency exchange out there. Bitstamp allows you to buy Litecoin through a wire transfer of USD or EUR. You can also exchange your Bitcoins to Litecoins as well.
Step 3 – Buy Litecoins and withdraw them to your wallet
Once you decide on an exchange, open an account and buy the Litecoins. Make sure to withdraw the Litecoins from the exchange to your personal wallet. Never leave coins in an exchange as you risk losing them if the exchange gets hacked or shuts down.
Can I buy Litecoins with Paypal?
If you're looking to buy Litecoins with Paypal there is no direct option. You'll need to buy Bitcoins with Paypal through Virwox or other options (as shown below) and then exchange them to Litecoins on an exchange like BTC-e.
Important update!


VirWox is delaying new user transactions for up to 48 hours. This means that it can take you 2 days to complete this process. This is still way faster than using a wire transfer but keep in mind that this will probably not be instant (although in some cases it is relatively faster). If you find yourself getting stuck at any point don't hesitate to contact me through the contact form on the site.
A few things to keep in mind before we begin. The first is that it's really hard to buy Bitcoin with Paypal  because of the risk it poses to the seller. It's still possible but now we come to the second point. Since we can't buy Bitcoin with Paypal directly, we will buy it using a workaround. This workaround causes the transaction fees to be higher. I find this process still worth the cost because of the extreme volatility of Bitcoin.
The first thing you'll need to do is to go to VirWox (Virtual World Exchange) and open a new account – look for the "Not registered yet" link as shown in the image below: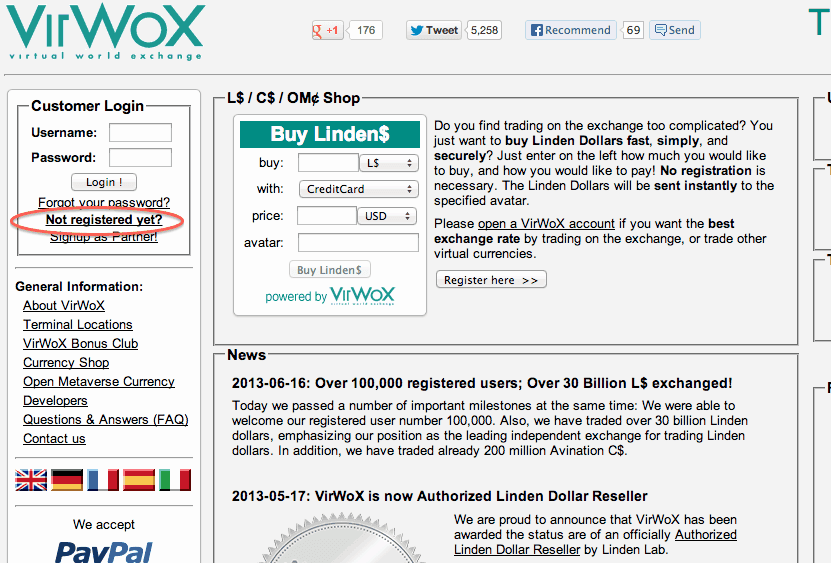 Now just fill in your personal details. Where it asks you about your avatar name just leave it at "no avatar" and click "Register. Once this step is done you'll be sent an email with your password.
IMPORTANT – Don't forget to change your password
In the email from VirWox you will receive a password. Log into VirWox with that password. I strongly recommend you change it once inside since you will be transferring money through this account. You can do this under "change settings" as shown here:
Fund your account through Paypal
Now go to "Deposit" and choose the "Paypal express" method. Enter the amount of USD/EUR you want to deposit and click the Paypal checkout button. Note that if your account is new you will have a max limit on how much you can deposit. In time this limit will be removed and you will be able to deposit more and more.
Once the account is funded it's time to buy some SLL (Second Life Lindens) and exchange them into Bitcoins. Start off by buying SLL in the SLL/USD exchange  as shown here: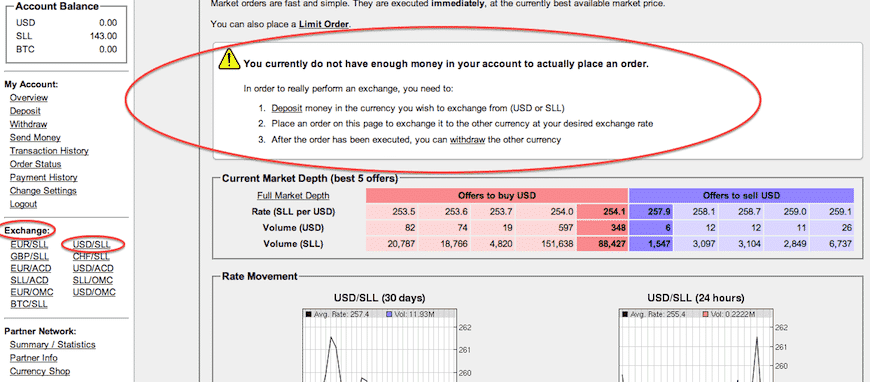 After you see the SLL in your account (top left) you will now need to exchange them to Bitcoins. Go to the SLL/BTC exchange and exchange you Lindens to Bitcoins: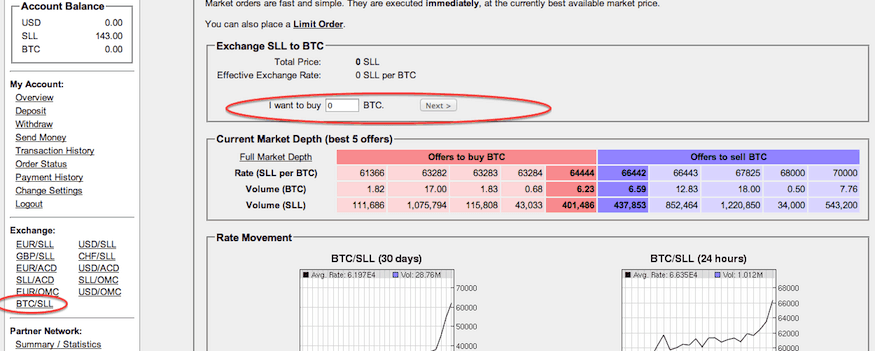 Now you can use Changelly or Shapeshift to exchange your Bitcoins to Litecoins.
Buy Litecoin with Credit Card
If you want to use a Visa or Mastercard, you can visit the trading platform Indacoin to buy Litecoins.
Buy Litecoin with Bitcoin
A very good site for purchasing Litecoin with Bitcoin is Exmo, a real time exchange market for Litecoin, Bitcoin, Dogecoin, Ethereum and Dashcoin. If you can't find the right payment method, you can also buy Bitcoin first and trade those Bitcoins for Litecoins.