Here are the best hardware elements that every miner should have these days to take advantage of the best time for Ethereum mining.
The criptocoins that can be mined efficiently with this list of hardware are:
Ethereum (ETH), Ethereum Classic (ETC), Monero (XMR), PascalCoin (PASC), Decred (DCR), Expanse (EXP), Lbry Credits (LBC), Siacoin (SC), Komodo (KMD), Ubiq (UBQ), Karbowanec (KRB), Bipcoin (BIP).
Ethereum Mining GPUs
Some GPUs have a higher hash rate than others, while some use more electric power as well. In choosing the most efficient GPU the most important thing is striking a balance between how powerful you want your rig to be and how much you are willing to spend on the GPU itself and the electricity.
Also, what is the cost of electricity in your country? Electricity costs are the deciding factor for most miners. As we have seen with Bitcoin mining, miners in China, Iceland, and other places with cheap electricity have a huge advantage!
Now, here is a list and brief description of the most efficient GPUs on sale.
Sapphire Radeon NITRO Rx 470 4GB
1143 MHz Engine Clock; 1260 MHz boost Engine Clock
1750 MHz, 7000Mbps effective Memory Clock
Ethereum: 22Mh/s – 31Mh/s
Ethereum Classic: 22Mh/s – 31Mh/s
ZCash: 300H/s – 400H/s
Monero: 650 H/s – 850 H/s
Sapphire Radeon NITRO Rx 480 8GB
1121 MHz Engine Clock; 1260 MHz boost Engine Clock
2000 MHz, 8000Mbps effective Memory Clock
Ethereum: 22Mh/s – 31Mh/s
Ethereum Classic: 22Mh/s – 31Mh/s
ZCash: 300H/s – 400H/s
Monero: 650 H/s – 850 H/s
check bottom for more details
GPU 570 / 580 SERIES
AMD Radeon RX 570 / 580 Series
Sapphire Pulse RX 570 4GB
GPU/memo clock: 1130/2050
Ethereum: stock 24 Mh/s ; modded bios + oc 29-29.5Mh/s (Hynix)
MSI RX 570 Gaming X 4G
GPU/memo clock: 1140/2050
Ethereum: stock 22.2 Mh/s ; modded bios + oc 28Mh/s – 30Mh/s
MSI RX 570 Armor 4G OC Gaming
GPU/memo clock: 1150/2000
Ethereum: stock 22.2 Mh/s ; modded bios + oc 27.3 MH/s ; 28.5 Mh/s (still good for improvements)
Power Usage: 105W / GPU-z shows 75-80W
Sapphire Pulse RX 570 ITX 4GB
GPU/memo clock: 1100/1910 (Elpida)
Ethereum: stock 22.4 Mh/s ; bios mod + oc 30.5 Mh/s (dual)
Power Usage: 130w (power may be higher)
Sapphire Nitro+ RX 580 8GB Limited Edition
GPU/memo clock: 1150/2250
Ethereum: stock 22.5 Mh/s ; modded bios + oc 30 – 31.6 Mh/s
Power Usage: 130w
Sapphire Nitro+ RX 580 8GB
GPU/memo clock: 1130/2150
Ethereum: stock 24 Mh/s ; modded bios + oc 30 Mh/s ETH – 870 Mh/s DCR
Power Usage: 130w – 150w
Sapphire Pulse RX 580 8GB OC
GPU/memo clock: 1130/2150
Ethereum: stock 24.5 Mh/s ; modded bios + oc 30Mh/s
Power Usage: 110w
MSI RX 580 8GB Gaming X
GPU/memo clock: 1130/2150
Ethereum: stock 24.5 Mh/s ; modded bios + oc 29Mh/s – 30.7 Mh/s
GPU GTX 1060 / 1070 / 1080 SERIES
Nvidia GeForce GTX 1060 / 1070 / 1080 Series
Gigabyte Geforce GTX 1060 Windforce OC 6G
Hashrate: Ethereum 17-22mh/s, ZCash 300-350, Monero 400-425
Gigabyte Geforce GTX 1060 G1 GAMING 6GB
Hashrate: Ethereum 17-22mh/s, ZCash 300-350, Monero 400-425
MSI GAMING GEFORCE GTX 1060 6GB
Hashrate: Ethereum 17-22mh/s, ZCash 300-350, Monero 400-425
EVGA Geforce GTX 1060 FTW+ Gaming 6GB
Hashrate: Ethereum 17-22mh/s, ZCash 300-350, Monero 400-425
Gigabyte Geforce GTX 1070 8GB
Hashrate: Ethereum 25-30mh/s, ZCash 400-450, Monero 420-475
MSI Gaming Geforce GTX 1070 8GB
Hashrate: Ethereum 25-30mh/s, ZCash 400-450, Monero 420-475
MSI Armor Geforce GTX 1070 8GB OC
Hashrate: Ethereum 25-30mh/s, ZCash 400-450, Monero 420-475
ASUS Geforce GTX 1070 8GB
Hashrate: Ethereum 25-30mh/s, ZCash 400-450, Monero 420-475
Motherboards for Etherium Mining
Intel and AMD Motherboards with 6 and 7 GPU slots
6 GPU – ASRock H81 PRO BTC R2.0 LGA 1150
Intel Motherboard 1150 Socket
Chipset: Intel H81
CPU Socket: 1150 (4th generation Intel Core i7 / i5 / i3 / Xeon / Pentium / Celeron in LGA1150 Package)
Memory: Dual Channel DDR3/DD3L Memory Technology
32Mb AMI UEFI Legal BIOS with multilingual GUI support
CPU, DRAM, PCH 1.05V Voltage multi-adjustment Graphics
PCIE x1 Gigabit LAN 10/100/1000 Mb/s
5 x PCI-Express x1
1 x PCI Express x16
6 GPU – Biostar Motherboard TB250-BTC
Intel Motherboard 1150 Socket
Chipset: Intel B250
CPU Socket: Core i7 / i5 / i3 / Pentium / Celeron (LGA1151)
Memory: DDR4 2400/ 2133/ 1866
6 PCI Express slots mining motherboard
5 x PCI-Express x1
1 x PCI Express x16
6 GPU – Biostar Motherboard TB350-BTC
AMD Motherboard AM4 Socket
Chipset: AMD AM4 Socket
CPU Socket: AMD Ryzen 5
Memory: DDR4 3200(OC)/ 2933(OC)/ 2667/ 2400/ 2133/ 1866 MHz
6 PCI Express slots mining motherboard
5 x PCI-Express x1
1 x PCI Express x16
6 GPU – ASRock ATX DDR3 1333 LGA 1150 Motherboards Z97 EXTREME4 1150
Intel Motherboard 1150 Socket
Chipset: Intel H81, Intel Z97 Express
CPU Socket: 1150, Supports 5th/4th Generation Intel® Core™ i7/i5/i3/Pentium®/Celeron® Processors
Memory: 4x DDR3-3200+(OC)/2933+(OC)/ 2800(OC)/ 2400(OC)/ 2133(OC)/ 1866(OC)/ 1600/ 1333/ 1066 DIMM Slots, Dual Channel
3 x PCI-Express 2.0 x1
3 x PCI Express 3.0 x16
1 SATA Express, 8 SATA3, 1 M.2 (PCIe Gen2 x2 & SATA, Supports 30mm, 42mm, 60mm, 80mm, 110mm M.2 devices)
PCIE x1 Gigabit LAN 10/100/1000 Mb/s
6 GPU – Biostar TB85 DDR3 1333 LGA 1150 Motherboard 1150
Intel Motherboard 1150 Socket
Chipset: Intel B85 single chip architecture
CPU Socket: 1150, Intel 4th generation Core i7 / i5 / i3 / Pentium / Celeron processors
Memory: 2-DIMM DDR3 1600/ 1333/ 1066
5 x PCI-Express 2.0 x1
1 x PCI Express 3.0 x16
100% X.D.C solid capacitor
PCIE x1 Gigabit LAN 10/100/1000 Mb/s
6 GPU – Gigabyte AM3+ AMD 990FX SATA 6Gb/s USB 3.0 ATX
AMD Motherboard AM3+ Socket
Chipset: AMD SB950
CPU Socket: AM3+/AM3/AMD Athlon II Chipsets: AMD 990FX/AMD SB950
Memory: 4 x 1.5V DDR3 DIMM sockets supporting up to 32 GB of system memory.Support for DDR3 2000(O.C.)/1866/1600/1333/1066 MHz memory modules
2 x PCI Express x16 slot running at x16
1x PCI Express x4 slots
2 x PCI Express x1 slot
1x PCI slots
7 GPU – MSI Z170A Gaming Pro Carbon Motherboard LGA 1151
Intel Motherboard 1151 Socket
Chipset: Intel Z170 Express
CPU Socket: LGA 1151, supports 6th Generation Intel Core i7/ i5/ i3/ Pentium/ Celeron Processors
Memory: 4x DDR4-3600(OC)/ 3200(OC)/ 3000(OC)/ 2800(OC)/ 2600(OC)/ 2400/ 2133 MHz DIMM Slots, Dual Channel, ECC, Un-buffered, Max Capacity of 64GB
4x PCI-Express 3.0 x1 Slots
3x PCI-Express 3.0 x16 Slots (runs at x16/x0/x4 or x8/x8/x4 modes)
6x SATA3 Ports
M.2: 1x M.2 Ports, Support SATA3 & 4.2/ 6/ 8cm Length M.2 SSD Cards
7 GPU – ASUS PRIME Z270-A Motherboard LGA 1151
Intel Motherboard 1151 Socket
Chipset: Intel Z170 Express
CPU Socket: LGA 1151, supports 6th Generation Intel Core i7/ i5/ i3/ Pentium/ Celeron Processors
Memory: 4x DDR4-3600(OC)/ 3200(OC)/ 3000(OC)/ 2800(OC)/ 2600(OC)/ 2400/ 2133 MHz DIMM Slots, Dual Channel, ECC, Un-buffered, Max Capacity of 64GB
4x PCI-Express 3.0 x1 Slots
3x PCI-Express 3.0 x16 Slots (runs at x16/x0/x4 or x8/x8/x4 modes)
6x SATA3 Ports
M.2: 1 x 22110 (PCIe 3.0 x4 & SATA) 1 x 2280 (PCIe 3.0 x4)
7 GPU – Gigabyte Z170 Gaming 5 (GA-Z170X-GAMING 5) Motherboard LGA 1151
Intel Motherboard 1151 Socket
Chipset: Intel Z170 Express
CPU Socket: LGA 1151, supports 6th Generation Intel Core i7/ i5/ i3/ Pentium/ Celeron Processors
Memory: 4x DDR4-3600(OC)/ 3200(OC)/ 3000(OC)/ 2800(OC)/ 2600(OC)/ 2400/ 2133 MHz DIMM Slots, Dual Channel, ECC, Un-buffered, Max Capacity of 64GB
1x PCI-Express 3.0 x16 Slot, 1x PCI-Express 3.0 x8 Slot, 1x PCI-Express 3.0 x4 Slot, 4x PCI-Express 3.0 x1 Slots
3 x SATA Express connector, 6 x SATA 6Gb/s connectors
M.2: 1 x 22110 (PCIe 3.0 x4 & SATA) 1 x 2280 (PCIe 3.0 x4)
7 GPU – Gigabyte GA-Z170X-UD5 Motherboard LGA 1151
Intel Motherboard 1151 Socket
Chipset: Intel Z170 Express
CPU Socket: LGA 1151, supports 6th Generation Intel Core i7/ i5/ i3/ Pentium/ Celeron Processors
Memory: x DDR4 DIMM Slots and Dual Channel
1x PCI – Express 3.0 x16 Slots, 1x PCI – Express 3.0 x8, 1x PCI – Express 3.0 x4 and 4x PCI – Express 3.0 x1
3 x SATA Express,8 x SATA 3
2 x M.2
7 GPU – MSI Z170A Gaming M5 Motherboard LGA 1151
Intel Motherboard 1151 Socket
Chipset: Intel Z170 Express
CPU Socket: LGA 1151, supports 6th Generation Intel Core i7/ i5/ i3/ Pentium/ Celeron Processors
Memory: x DDR4 DIMM Slots and Dual Channel
3x PCI-Express 3.0 x16 Slots (runs at x16, x8/x8, x8/x8/x4, or x8/x8/x1 modes), 4x PCI-Express 3.0 x1 Slots
6x SATA3 Ports (4-ports reserved for SATA Express Port), Support RAID 0, 1, 5, 10; 2x SATA Express Ports (PCI-Express 3.0 x2)
2 x M.2
Rigs – Frames for Etherium Mining
6 GPU Open Air Case for Crypto Currency Mining Rig Frame
Veddha Minercase X8 8-GPU Aluminum Stackable Mining Rig Open Air Frame Case ETH/ETC/ ZCash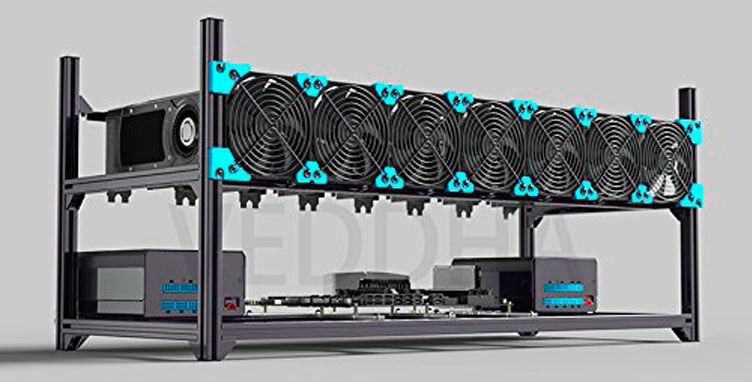 Powered Risers / USB
6-Pack PCIe VER 006 PCI-E 16x to 1x Powered Riser Adapter Card